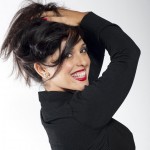 Melissa Western was born in Manchester, England. The only daughter of a jazz-singing English father and an award-winning Sri Lankan model mother, it seems Melissa was destined to perform. By turns sassy, soulful, smart and sweet, Melissa straddles the worlds of jazz, cabaret and theatre. Over the past ten years she has performed to audience and critical acclaim locally in Brisbane, nationally throughout Australia and internationally in the UK and France. In 2013, Melissa's new jazz cabaret at The Jazz Bar entitled Sweet, Sour and Saucy received critical and audience acclaim, Western being touted as a "force of nature" (Broadway Baby, 5 stars). The show went on to be nominated for three Matilda Awards in 2015: Best Musical/Cabaret, Best Female Actor in a Leading Role and Best Set Design. In 2014 Melissa was awarded a prestigious Churchill Fellowship to study improvised musical theatre in the UK. She has trained intensively in musical theatre at RADA (London) and NIDA, physical theatre with Zen Zen Zo, and has trained in dance for over fifteen years.  Melissa lives in Brisbane with her husband and performance partner Tnee and their two children Ella Abigail and Sasha Rose. They regularly tour together around Australia and to the UK.
---
Tnee Dyer is a charming and unique musical artist with a contagious enthusiasm for creativity and spontaneous invention. Known for his captivating emotional expression as a virtuosic jazz pianist in solo and group performances around his hometown of Brisbane, Tnee has just returned from a year in London with Melissa and their children. Before leaving Australia, Tnee was awarded a Careers Development Grant from Arts Queensland to study advanced songwriting and production techniques in the London. At the end of 2015 Tnee was musical director for 'Oh Lady be Good' and 'Songs for Sarah Conner' both of which featured in the 2015 Queensland Cabaret Festival. Achieving critical success for his performance of Sweet Sour and Saucy at the Edinburgh Fringe Festival with his long-time collaborator and life partner Melissa Western, the duo were awarded a grant from the Playing Queensland Fund and have since successfully toured their cabaret to over twenty regional towns around Queensland. He has worked with Opera Australia as an assistant musical director/composer on their production of Yarrabah the Musical. He has also worked as a musical director with WOT Opera (2014), helping to facilitate the rapid creation of student-lead operas. Tnee is also frequently commissioned to compose music, his most recent composition, 'Mummy who am I', is featured in a book published by Boolarong Press.
---
Greg Gottlieb is an Australian double bassist whose talent and versatility have seen him grace stages across Europe, from London to Berlin. Among his many musical passions, Greg has a particular  penchant for the jazz of the 1920s and 30s. His flair for early jazz has resulted in lengthy tenures with  some of Europe's finest acts, including Benoit Viellefon and His Orchestra, Top Shelf Jazz Band, The  Dixie Strollers and The Dalston Gypsy Jazz Trio. In addition to live concerts, Greg has also written for  stage and screen, and has performed on television (BBC2, FRANCE2 and iTV) and in feature films, such  as Theory of Everything (2015) and Allied (2016).
---
Steve Powell is a Brisbane-based drummer, educator and author.  He is currently completing his Bachelor of Music at Jazz Music Institute while also teaching drums to up to 30 students at his home studio.  He can also be seen gigging regularly around Brisbane with his surf-rock band The Wet Fish, playing the music of the Ventures, the Shadows, the Beach Boys and many more….in fact you can't miss them in  their Hawaiian shirts!  Steve is also passionate about funk and soul music of the 60s and 70s and earlier this year he published his first book entitled Beat Roots, which is a homage to the drummers who provided the beat for their generation and others to follow.