About the cast         VooVoo's Party Planner            Tour Blog          Technical Specs            Follow Melissa on Facebook
Bubbly Australian railway heiress, VooVoo, is turning 21 and you're invited to the party of the 20th century! Melissa Western returns in this delightful cabaret set in 1920s Australia, touring Queensland from September 2016. Trip the flight fantastic in this decadent production featuring a cheeky wink to the great icons and composers of the twenties: Josephine Baker, Greta Garbo, Louis Armstrong, Duke Ellington, Bessie Smith, Cole Porter and more. Inspired by the thrilling hedonism of film releases including The Great Gatsby, Midnight in Paris and Chicago, this show will charm you into the smoky, glitzy, ritzy speakeasy lifestyle of the hot Jazz Age.
Featuring a live band, wild cabaret, fabulous style, dancing and more, don't miss this spectacular party!

We delightfully announce our Style Partner
The Lindy Charm School for Girls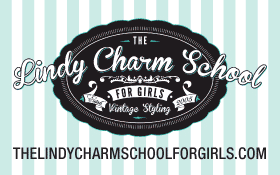 MILES LEICHHARDT HALL 28 SEPT 7.30PM
TAMBO SHIRE HALL 30 SEPT 6.30PM
LONGREACH QANTAS FOUNDERS MUSEUM 6 OCT 7PM
BARCALDINE TOWN HALL 7 OCT 7PM
SPRINGSURE GOLF CLUB 8 OCT 7.30PM
TOWNSVILLE RIVERWAY ARTS CENTRE 12 OCT 7.30PM
PROSERPINE ENTERTAINMENT CENTRE 13 OCT 6.30PM
CHARTERS TOWERS WORLD THEATRE 14 OCT 7.30PM
BLACKALL THE WOOLSCOUR 16 OCT 6PM
GYMPIE CIVIC CENTRE 28 OCT 7.30PM
CHILDERS PARAGON THEATRE 29 OCT 7PM
MALENY COMMUNITY CENTRE 30 OCT 2PM
HUGHENDEN DIGGERS ENTERTAINMENT CENTRE 24 NOV 7PM
JULIA CREEK MCKINLAY SHIRE CIVIC CENTRE 25 NOV